Bagster Trash Removal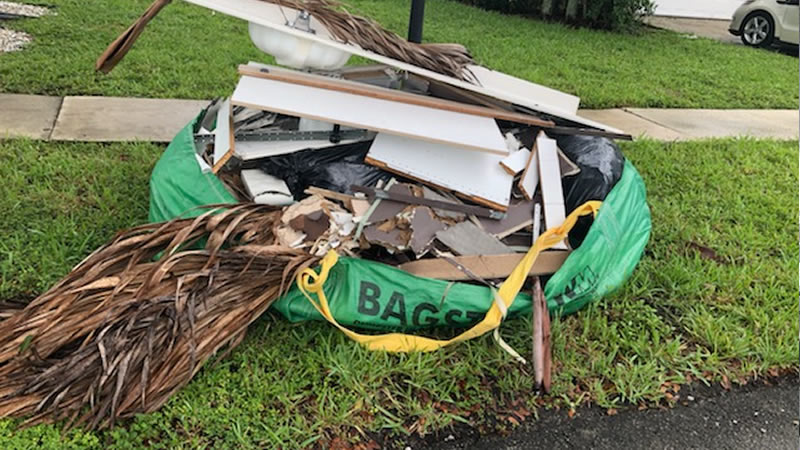 Have you been caught by the assumed low price of Bagster?
The customer thought they were going to be able to purchase a Bagster Bag at $30 and pay $160 for a pickup of their construction debris.
The construction debris was from a bathroom they had demo'd. This consisted of lots of heavy tile, sheet rock, a tub and a double sink.
This the customer thought was the best deal possible. But little did the customer realize that construction debris is generally very heavy and the weight is the main factor to construction debris. The reality is once you go to the land field with it the cost of this construct would exceed $400 just for the weight alone. That does not include any labor, gas, vehicle usage and taxes.
So the Bagster Team came out to pick up his bag and he was immediately told that his bag was not packed correctly and that it was over weight. The Bagster policy is construction debris must be spread evenly through out the Bagster Bag and can not fill up more than 1/3 of the bag. You guessed it, this would require that the customer purchase 4 more Bagster Bags and that the customer restake the items into each bag correctly.
The Hidden cost of the Bagster Bag
This meant that the client was purchasing another 4 X $30 per bag which is $120.00. In addition, each of the 4 addition bags had a dump fee of $140 per bage (discounted from the 1st bag at $160) which is a 4 X 140 per bag load which is $560. A whopping Grand Total of $680. ECS came through and picked up the load for a total Cost of $595.00. Most importantly ECS would have done all of the origanal loading of the debris and the cost is a fixed cost. There are never any hidden fees.
Alternative to Bagster Trash Removal
Bagster Trash Removal ECS is the best alternative to Bagster Trash Removal
At ECS we can do a little or we can do a lot.
TAG: Property Cleanout Services Kendall | Property Cleanout Services Pinecrest | Property Cleanout Services Hallandale Beach